Wet And Dry Vacuum Cleaner Wd 3 V-17/6/20 Car
SH-017610
Regular price
MVR 1,886.00
/
Price Excluding GST
---
In stock, ready to ship

Inventory on the way
The super-powerful car vacuum cleaner: The WD 3 V-17/6/20 Car is built for vehicle interior cleaning with 17 l plastic container, 6 m cable, 2 m suction hose and special nozzles.
The wet and dry vacuum cleaner WD 3 V-17/6/20 Car is super-powerful, energy-efficient and compact – with only 1000 W power consumption. The machine impresses with a car nozzle, extra-long crevice nozzle and suction brush with soft and hard bristles. Whether it is sensitive surfaces such as the dashboard, heavily contaminated areas such as the footwell, large areas like in the boot or narrow spaces between the seats: Thanks to special brushes and nozzles, every area inside the vehicle can be thoroughly cleaned without difficulty. The detachable handle allows the brushes and nozzles to be connected directly to the suction hose, thus allowing effortless working in confined spaces. Equipped with a robust and impact-resistant 17 l plastic container, 6 m cable and 2 m suction hose with detachable handle, Clips floor nozzle, crevice nozzle, cartridge filter and fleece filter bag. The single-piece cartridge filter allows dry and wet dirt to be vacuumed without filter replacement. Other features: storage possibility at the machine head, practical blower function, "Pull & Push" locking system for simple opening and closing of the container and an ergonomically shaped carrying handle.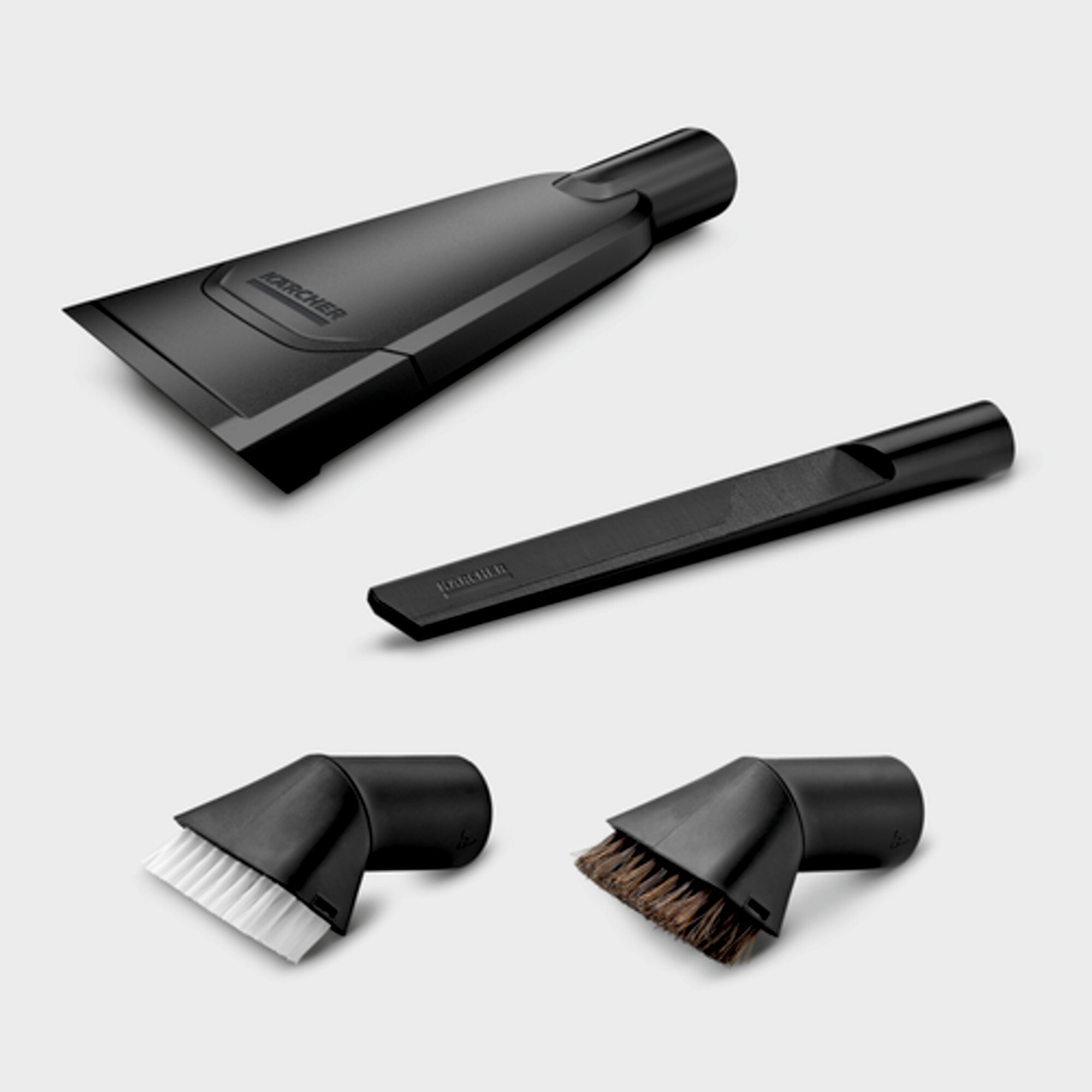 Special accessories for interior car cleaning
For the best cleaning results on sensitive surfaces, large surfaces and in narrow gaps. For optimal removal of fine and stubborn dirt.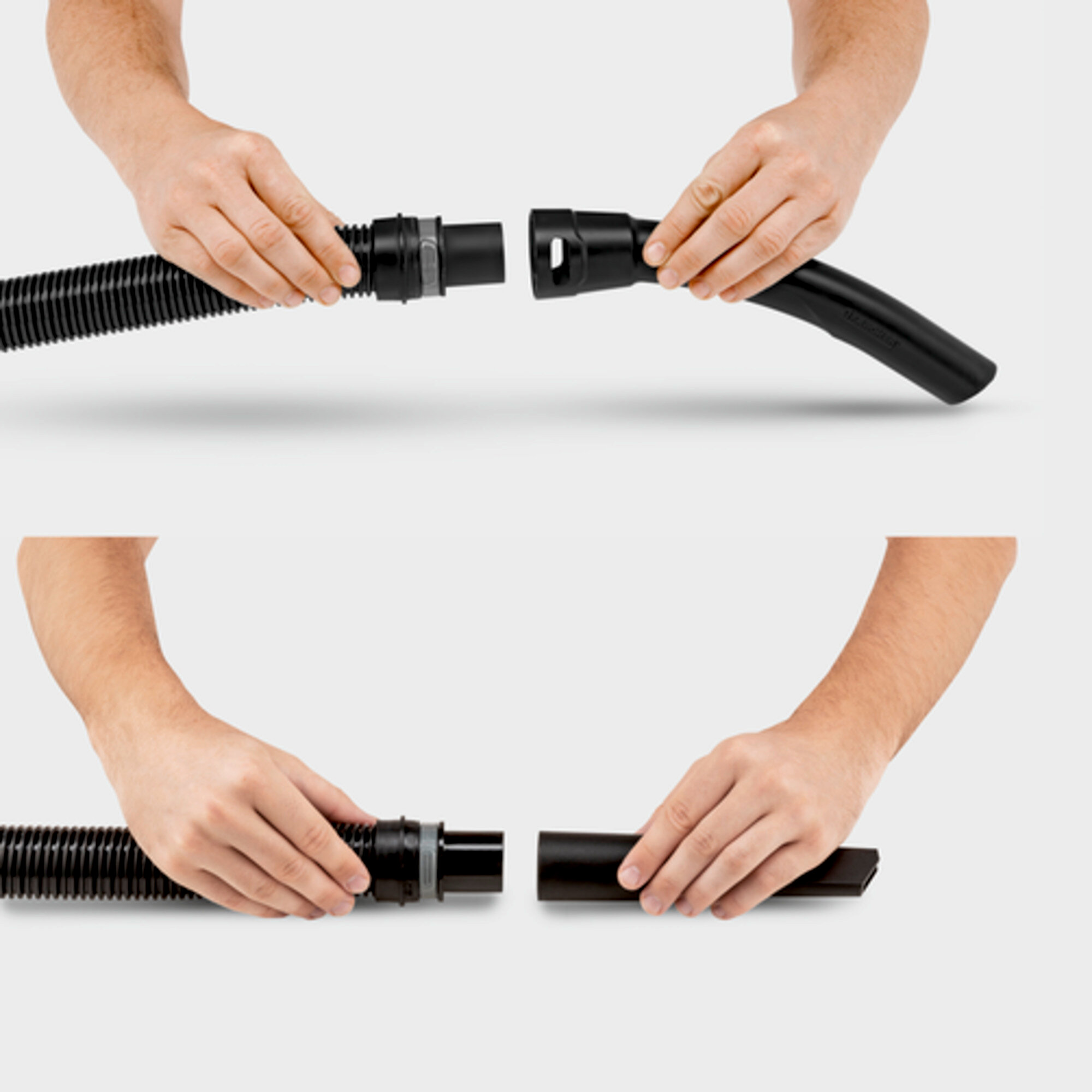 Removable handle
Different nozzles can be directly attached to the suction hose. For easy vacuuming – even in confined spaces.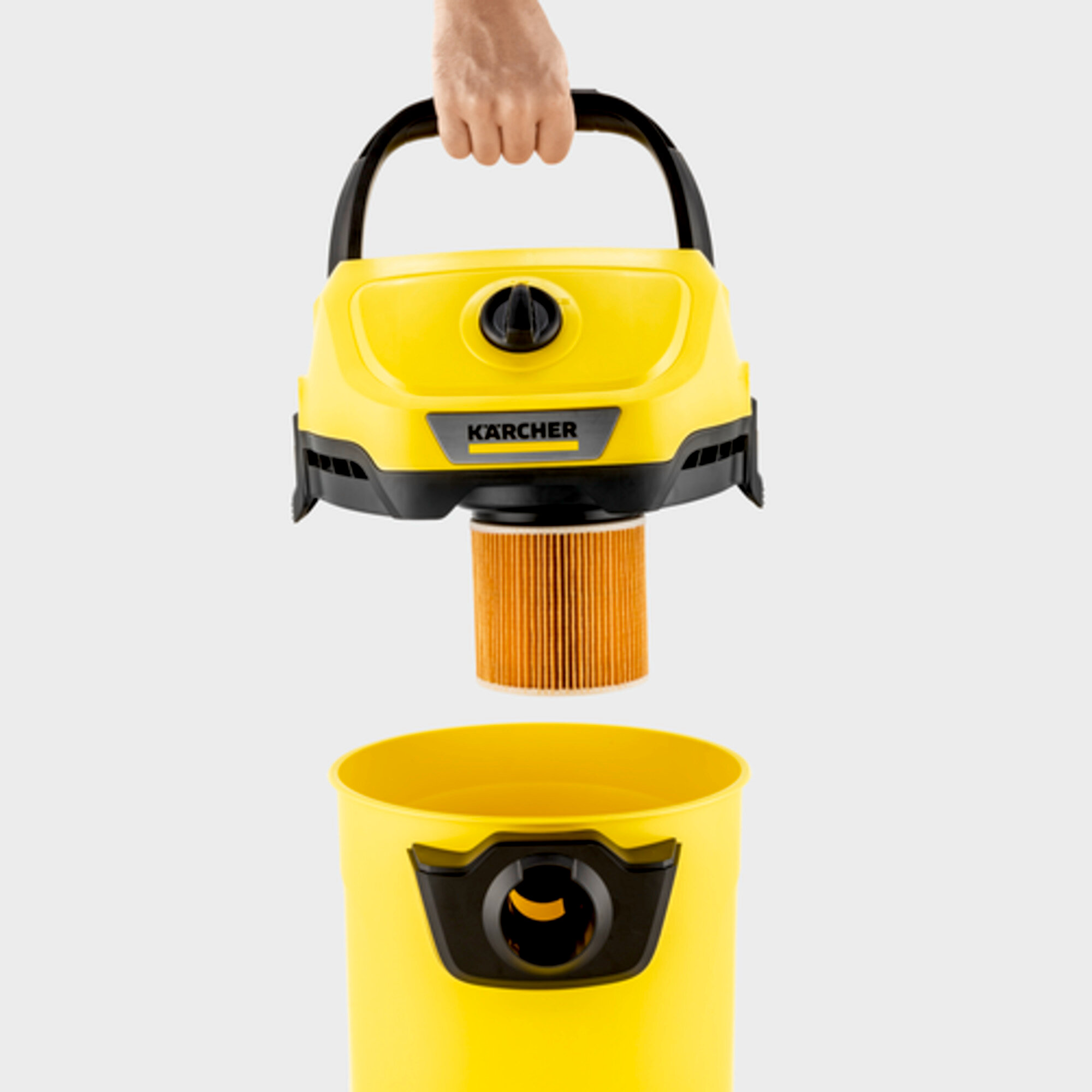 Single-part cartridge filter
For wet and dry vacuuming without additional filter replacement. Simple installation and removal of filter by turning without additional locking part.
Karcher - Wet & Dry Vacuum Cleaner
Practical cord and accessories storage
Space-saving, secure and easily accessible accessories storage.
The power cable can be safely stored using the integrated cable hooks.
Hose storage on the device head
The suction hose can be stored in a space-saving manner by hanging it on the device head.
Intuitive securing mechanisms for left- and right-handed users.
Storage shelf
For the safe storage of tool and small parts such as screws or nails.
Practical blower function
Where vacuuming is not possible, the practical blower function can be used.
Effortless dirt removal, e.g. from a gravel bed.
Fleece filter bag
Triple-layered, extremely tear-resistant fleece material.
For longer-lasting suction power and outstanding dust retention.
Intermediate parking of the handle on the device head
Quickly park the handle on the device head when taking a break from work.
The device, suction hose and floor nozzle are optimally coordinated
For the best cleaning results – whether dry, wet, fine or coarse dirt.
For maximum vacuuming convenience and flexibility.
Technical data
Energy use (A)
1000
Container capacity (l)
17
Container material
Plastic
Colour
Device head yellow Device bumper yellow Container yellow
Power cable (m)
6
Standard accessory ID (mm)
35
Supply voltage (V/

Hz

)
220 - 240 / 50 - 60
Weight without accessories (kg)
4,6
Weight incl. packaging (kg)
7
Dimensions (L x W x H) (mm)
349 x 328 x 492
Equipment
Suction hose, 2 m, with curved handle, Plastic
Removable handle
Suction tubes, 2 piece(s), 0.5 m, 35 mm, Plastic
Wet and dry floor nozzle, clips
Crevice nozzle
Extra long crevice nozzle (350 mm)
Car nozzle
Suction brush with soft bristles
Suction brush with hard bristles
Fleece filter bag, 1 piece(s)
Cartridge filter, one-piece
Rotary switch (on/off)
Blower function
Intermediate parking position of the handle on the device head
Hose storage on the device head
Additional accessory storage on the device head
Storage space for small parts
Folding carrying handle
Cable hook
Parking position
Accessory storage on the device
Sturdy bumper
Swivel castors, 4 piece(s)
Product Type: KARCHER - VACUUM CLEANER
Item no. 1428500
Returns & Refunds policy: We hope you will be happy with your purchase. However, in the unlikely event if you are unsatisfied with the purchase or received incorrect, damaged item, you can request for a return, replacement or an exchange.

Exchanges can only be made for goods of equal value, or as part payment for higher valued goods. In case of higher value, you will be invoiced for the balance amount. No partial refund will be given and therefore exchanges for a lower priced item(s) are not permitted.

How to return: In case of defective items, you may return within 48 hours of delivery in their original packaging. We shall not accept any good(s) used or not in the condition in which it was delivered.

Deliveries: We provide delivery service to all addresses within Male' and Hulhumale' City.
 
All orders over MVR 300 qualify for free delivery, while orders under MVR 300 are subject to a MVR 50 delivery fee.

In addition, we do delivery of goods up to Jetty/boat.
Note that we do not engage in loading goods to boat.

Deliveries are carried out within 48 hours of purchase.