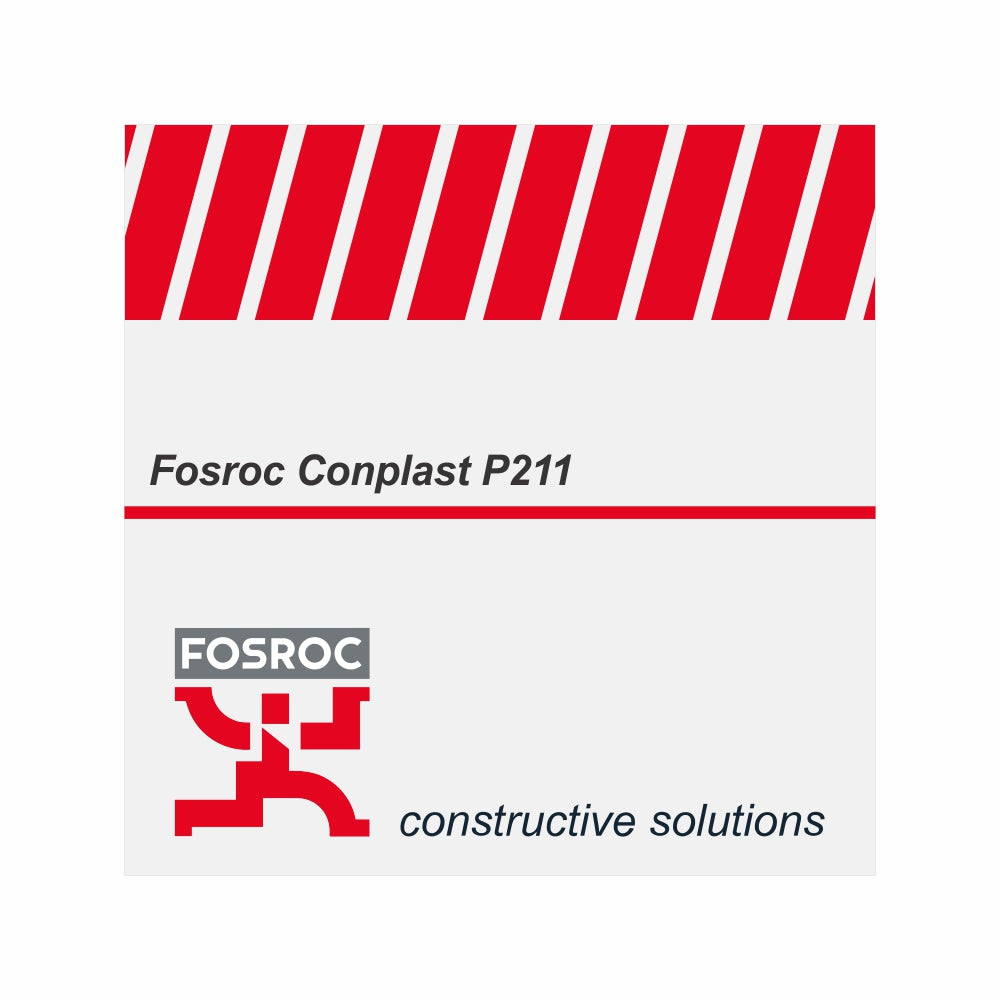 Fosroc Conplast P211 - 1 Ltr
SH-011076
Price Excluding GST
---
In stock, ready to ship

Inventory on the way
Conplast P211 is a chloride free water-reducing admixture based on selected sugar-reduced lignosulphonates. It is supplied as a brown solution which instantly disperses in water.
Main uses
Conplast P211 disperses the fine particles in the concrete mix, enabling the water content of the concrete to perform more effectively and improving the consistency of the concrete. This produces higher levels of workability for the same water content, allowing benefits such as water reduction and increased strengths to be taken.

Advantages

Allows specified strength grades to be met at reduced cement content or increased workability.
Water reduction significantly improves compressive strengths at all ages and enhances durability through the production of low permeability concrete.
Minimises the risk of segregation and bleeding and assists in the production of a dense, close textured surface, improving durability.
Chloride free, safe for use in pre-stressed and reinforced concrete.
Fosroc Conplast P211 200ltr/Drum
Product Type: Waterproofing CHEMICAL
Item no. 900169
Returns & Refunds policy: We hope you will be happy with your purchase. However, in the unlikely event if you are unsatisfied with the purchase or received incorrect, damaged item, you can request for a return, replacement or an exchange.

Exchanges can only be made for goods of equal value, or as part payment for higher valued goods. In case of higher value, you will be invoiced for the balance amount. No partial refund will be given and therefore exchanges for a lower priced item(s) are not permitted.

How to return: In case of defective items, you may return within 48 hours of delivery in their original packaging. We shall not accept any good(s) used or not in the condition in which it was delivered.

Deliveries: We provide delivery service to all addresses within Male' and Hulhumale' City.
 
All orders over MVR 300 qualify for free delivery, while orders under MVR 300 are subject to a MVR 50 delivery fee.

In addition, we do delivery of goods up to Jetty/boat.
Note that we do not engage in loading goods to boat.

Deliveries are carried out within 48 hours of purchase.