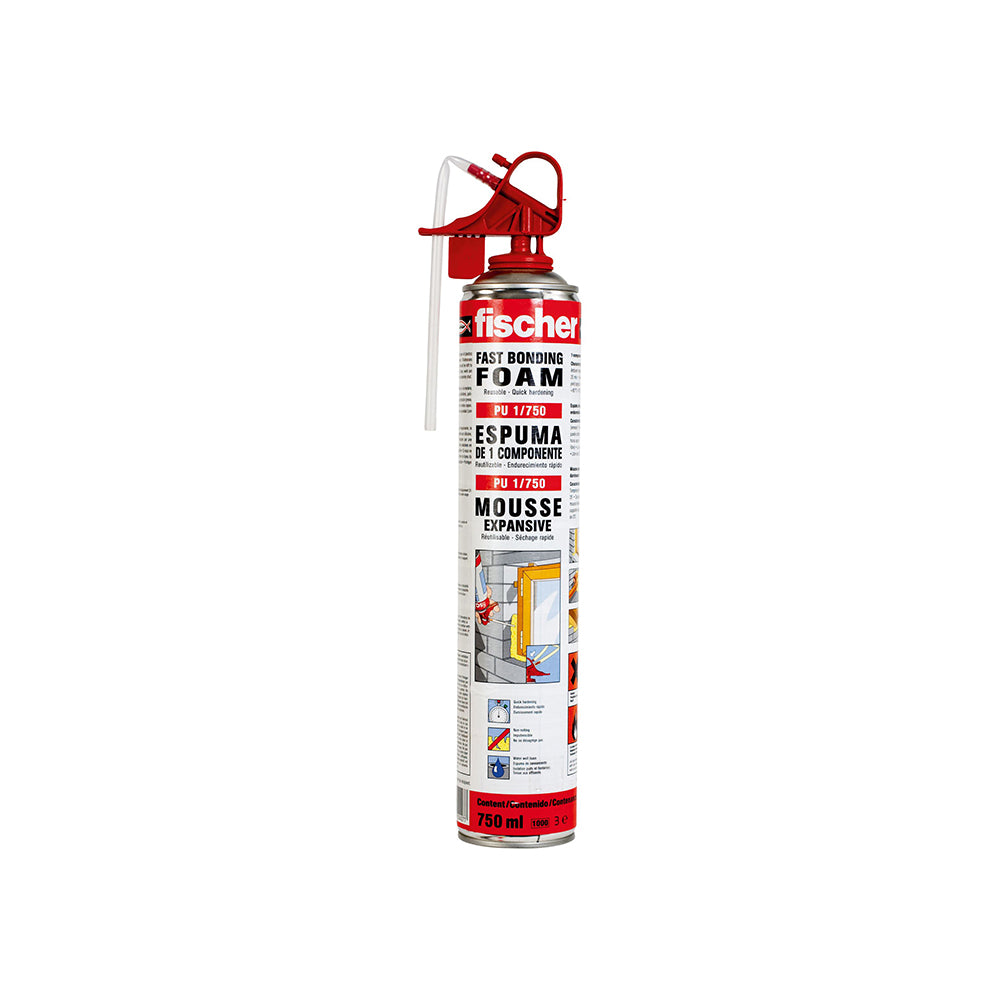 Fischer One Component Rapid Installation Foam PU1/750 B3
050427
Regular price
MVR 398.15
/
Price Excluding GST
---
In stock, ready to ship

Inventory on the way
Fischer - One Component Rapid Installation Foam Pu1/750 B3


Advantages
The reclosable fix adapter allows for immediate use and for the reuse of opened cans, thus guaranteeing long-lasting functionality.
The used solid valve prevents adhesion when being stored horizontally and premature gas loss.
The rapid installation foam has been approved as watertight by an external inspection and is thus suitable for use in wet conditions. It fulfils the requirements of a well foam.
The ergonomic handle sits perfectly in the hand and allows for easy use.
Applications
Bonding and sealing manhole rings
Insulating and filling in roofing work and dry construction
Insulating and filling window connection joints, around window sills and shutter boxes
Insulating and filling finished elements, wall connections and wall penetrations
Building materials
Bonds to all standard building materials such as:
Concrete
Anodised layer
Gypsum plasterboard
Wood
Sand-lime brick
Plastics (not on PE, PP, Teflon, silicone)
Masonry
Metals with priming coat
Plaster
Functionality
1-component PU foam
Building material class B2 or B3
Processing temperature environment: +5 °C to +35 °C (can temperature: +5 °C to +25 °C)
Non-tacky within approx. 20 minutes
Can be cut within approx. 40 minutes
Cures within 5 to 8 hours
Temperature resistant from -40 °C to +90 °C
Layer thicknesses > 50 mm: foam in several layers and then dampen.
Fresh foam stains can be removed immediately with fischer PU cleaner.

Item No. 050427
Returns & Refunds policy: We hope you will be happy with your purchase. However, in the unlikely event if you are unsatisfied with the purchase or received incorrect, damaged item, you can request for a return, replacement or an exchange.

Exchanges can only be made for goods of equal value, or as part payment for higher valued goods. In case of higher value, you will be invoiced for the balance amount. No partial refund will be given and therefore exchanges for a lower priced item(s) are not permitted.

How to return: In case of defective items, you may return within 48 hours of delivery in their original packaging. We shall not accept any good(s) used or not in the condition in which it was delivered.

Deliveries: We provide delivery service to all addresses within Male' and Hulhumale' City.
 
All orders over MVR 300 qualify for free delivery, while orders under MVR 300 are subject to a MVR 50 delivery fee.

In addition, we do delivery of goods up to Jetty/boat.
Note that we do not engage in loading goods to boat.

Deliveries are carried out within 48 hours of purchase.